A Complete List of Subclasses for HTMLElement interface in JS DOM
Not really full documentation, but still, a useful resource
Not really documentation, but here is a complete list of all the subclasses of the HTMLElement class in the Chrome browser.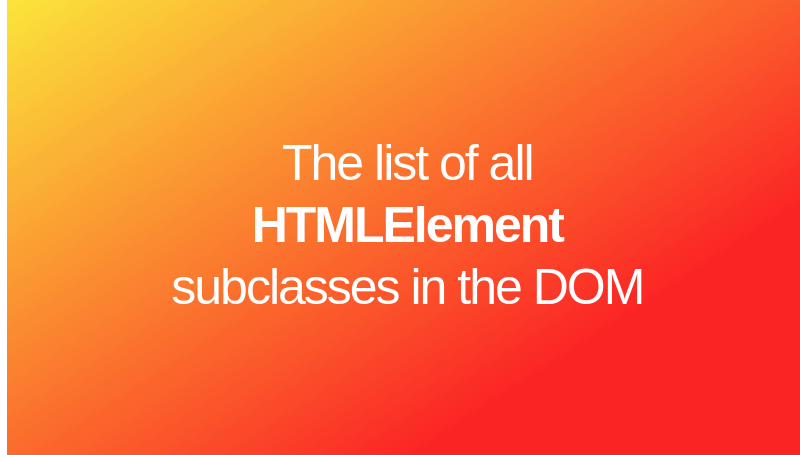 Those that are listed as "deprecated" are no longer available in Chrome:
HTMLAnchorElement
HTMLAppletElement (deprecated)
HTMLAreaElement
HTMLAudioElement
HTMLBRElement
HTMLBaseElement
HTMLBodyElement
HTMLButtonElement
HTMLCanvasElement
HTMLDListElement
HTMLDataElement
HTMLDataListElement
HTMLDetailsElement
HTMLDialogElement
HTMLDirectoryElement
HTMLDivElement
HTMLEmbedElement
HTMLFieldSetElement
HTMLFontElement (deprecated)
HTMLFormControlsElement
HTMLFormElement
HTMLFrameElement
HTMLFrameSetElement
HTMLHRElement
HTMLHeadElement
HTMLHeadingElement
HTMLHtmlElement
HTMLIFrameElement
HTMLImageElement
HTMLInputElement
HTMLIsIndexElement (deprecated)
HTMLLIElement
HTMLLabelElement
HTMLLegendElement
HTMLLinkElement
HTMLLayerElement (deprecated)
HTMLMapElement
HTMLMarqueeElement (deprecated)
HTMLMediaElement
HTMLMenuElement
HTMLMetaElement
HTMLMeterElement
HTMLModElement
HTMLOListElement
HTMLObjectElement
HTMLOptGroupElement
HTMLOptionElement
HTMLOutputElement
HTMLParagraphElement
HTMLParamElement
HTMLPictureElement
HTMLPreElement
HTMLProgressElement
HTMLQuoteElement
HTMLScriptElement
HTMLSelectElement
HTMLSlotElement
HTMLSourceElement
HTMLSpanElement
HTMLStyleElement
HTMLTableCaptionElement
HTMLTableCellElement
HTMLTableColElement
HTMLTableElement
HTMLTableRowElement
HTMLTableSectionElement
HTMLTemplateElement
HTMLTextAreaElement
HTMLTimeElement
HTMLTitleElement
HTMLTrackElement
HTMLUListElement
HTMLUnknownElement
HTMLVideoElement
While there is no link to further documentation, I find it helpful that all of them are listed in a single place, as a quick overview / reference. I haven't found a list like this online (except for the link krook.org JDoc-like reference but that link is broken and the site seems defunct. Additionally, the list on that site is kind of obsolete and doesn't list a number of subclasses that I've added above.